Covid: UK marks one year since the first lockdown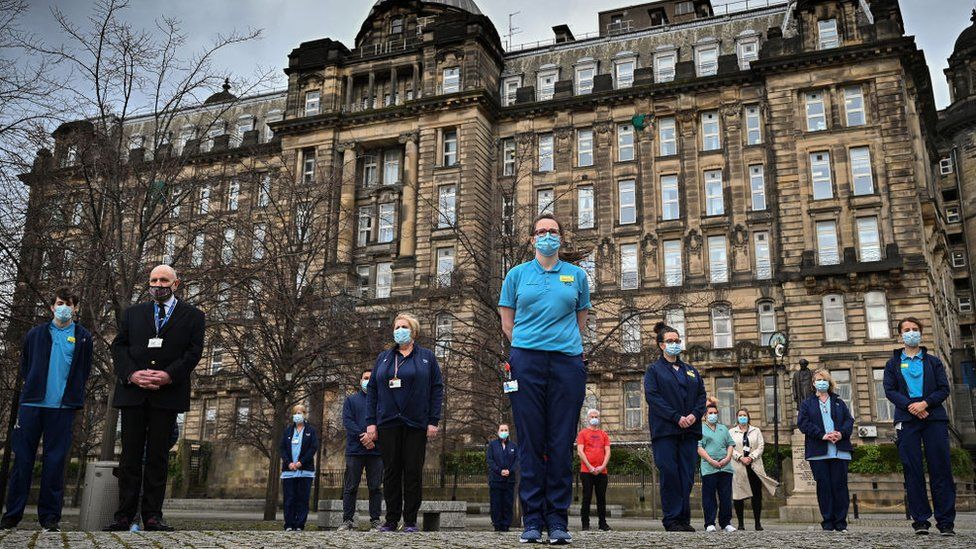 The UK is marking one year since the first coronavirus lockdown, with the Queen reflecting on the "grief and loss felt by so many".
A national minute's silence was held at midday, which parliaments across the UK paused business to observe.
On 23 March 2020, Prime Minister Boris Johnson announced tough restrictions on people's lives aimed at stopping the spread of Covid-19.
Mr Johnson, who observed the silence privately, praised the "great spirit" shown since the first lockdown and offered his condolences to those who have been bereaved during the pandemic.
People are also being encouraged to stand on their doorsteps at 20:00 GMT with phones, candles and torches to signify a "beacon of remembrance".
It is being organised by end-of-life charity Marie Curie.
It comes as a further 112 deaths were reported within 28 days of a positive test, taking the total by this measure to 126,284, while a further 5,379 people tested positive for Covid, according to the latest government data.
The prime minister, who himself spent time in hospital seriously ill with Covid, said the last year had taken a "huge toll on us all" and that the anniversary was an opportunity to reflect on the year – "one of the most difficult in our country's history".
Health Secretary Matt Hancock told BBC Breakfast the last year had been "probably the hardest year in a generation" but treatments and vaccines now provided "hope".
As of Monday more than 28.3 million people have received a first vaccine dose, with more than 2.3 million having had a second shot.
The Queen marked the anniversary by sending a bouquet of flowers to St Bartholomew's Hospital in London, where her husband the Duke of Edinburgh recently had surgery for a pre-existing heart condition.
A message along with the flowers read: "As we look forward to a brighter future together, today we pause to reflect on the grief and loss that continues to be felt by so many people and families, and pay tribute to the immeasurable service of those who have supported us all over the last year."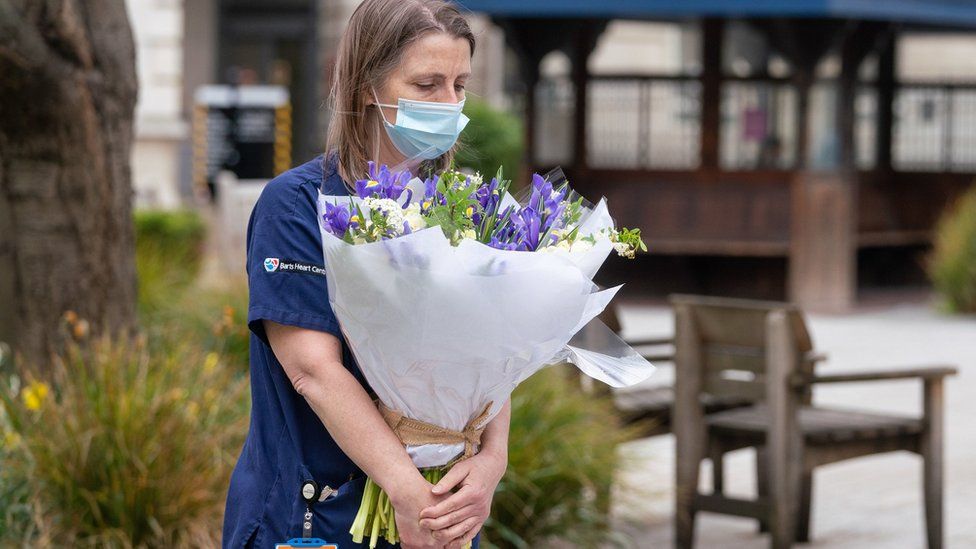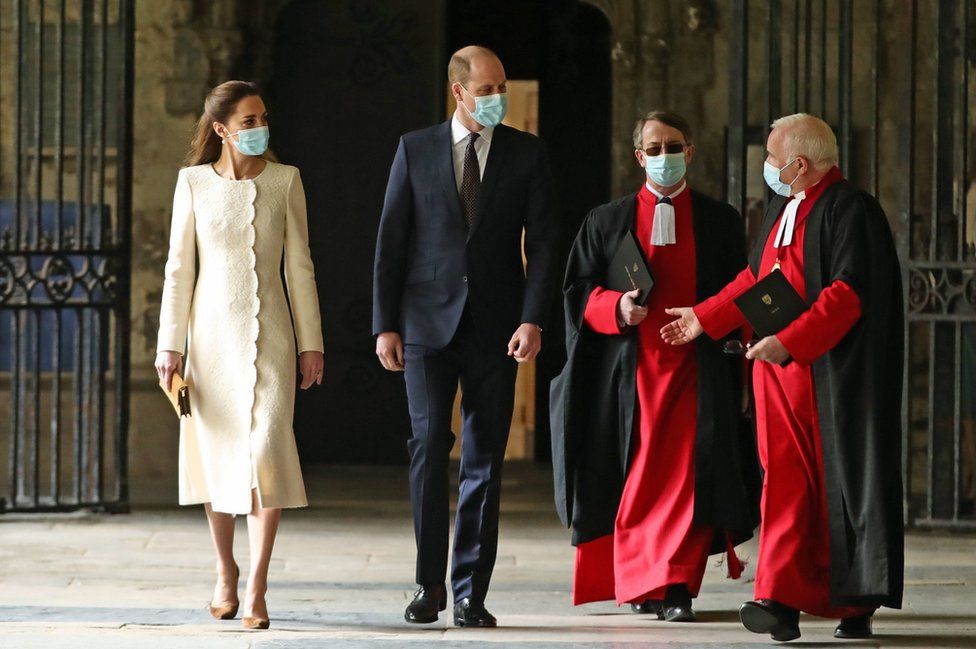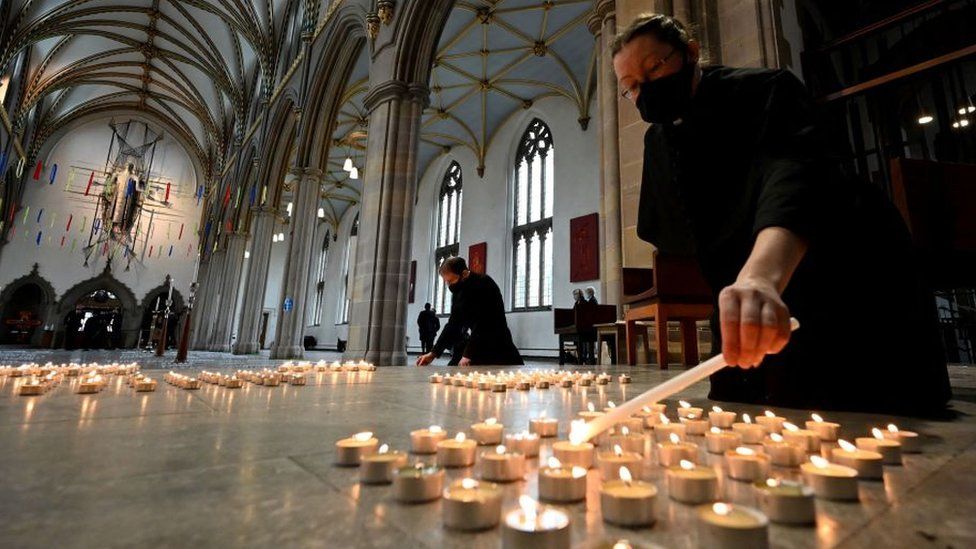 Coronavirus cases, hospital admissions and deaths have all fallen in recent weeks as a result of the latest lockdown and the vaccine rollout.
On Tuesday the prime minister's official spokesman said the roadmap out of lockdown for England remained "on track", with the government having outlined a "cautious and hopefully irreversible" route out of restrictions.


Timeline: How did the UK lock down?
16 March 2020: The public are told to avoid non-essential travel and social contact and to work from home where possible
18 March: Schools are told to close from 20 March until further notice, except for the children of keyworkers and vulnerable pupils
20 March: Restaurants, cafes and pubs are told to close
23 March: The prime minister announces the first national lockdown, telling people they will only be allowed to leave their homes for limited reasons. Non-essential shops are told to close


To mark the anniversary, London's skyline will turn yellow, with landmarks including the London Eye, Trafalgar Square and Wembley Stadium lighting up at nightfall.
Other notable buildings that will be illuminated include Cardiff Castle and Belfast City Hall, while churches and cathedrals will toll bells, light thousands of candles and offer prayers.
Scotland's first minister said in a tweet that her thoughts were with all of those who had lost a loved one to Covid or other causes in the past year.
First Minister Mark Drakeford paid tribute to the Welsh public for uniting "in the darkest of times".
Northern Ireland's First Minister Arlene Foster said it had probably been the "toughest year in living memory", while Deputy First Minister Michelle O'Neill said it had been a "huge challenge".
Health leaders have also paid tribute to their colleagues and the public for their support during the crisis.
Dame Donna Kinnair, general secretary of the Royal College of Nursing, said: "After a year of sacrifices and gestures, great and small, we are taking our turn to thank the public. In a time of loss and fear, they helped us to keep digging deeper."
Dr Susan Hopkins, Public Health England strategic response director for Covid-19, said the virus had "left no-one untouched" and she thanked public health workers "who have worked long and difficult hours to help keep the country safe".



A year ago today, fewer than 1,000 people in the UK had died with coronavirus.
The figure now stands at more than 126,000.
The prime minister said then there were "no easy options" and the way ahead would be "hard".
But few would have imagined the scale of the loss of lives – or liberties – to come; the restrictions we would still be facing 12 months on.
Indeed, as millions of us watched, listened and stopped a year ago, Boris Johnson said the restrictions would be reviewed three weeks later, and would be relaxed, if possible.
This easing of the rules came months rather than weeks later, soon to be followed by their reimposition as summer gave way to autumn and winter.
As we enter a second year of restrictions, there is hope life will soon get better.
But the shadow of the pandemic looms large.


Elsewhere, the Archbishop of Canterbury Justin Welby said the day of reflection was an opportunity to "mourn those who have died but also to give thanks for those who have looked after us and our communities".
Labour leader Sir Keir Starmer called for an inquiry into the handling of the pandemic "to learn what went wrong to make sure we never repeat that".
During a visit to Chelsea and Westminster Hospital in London, he accused the government of being "slow to react" implementing lockdowns and delivering protective equipment to the front line.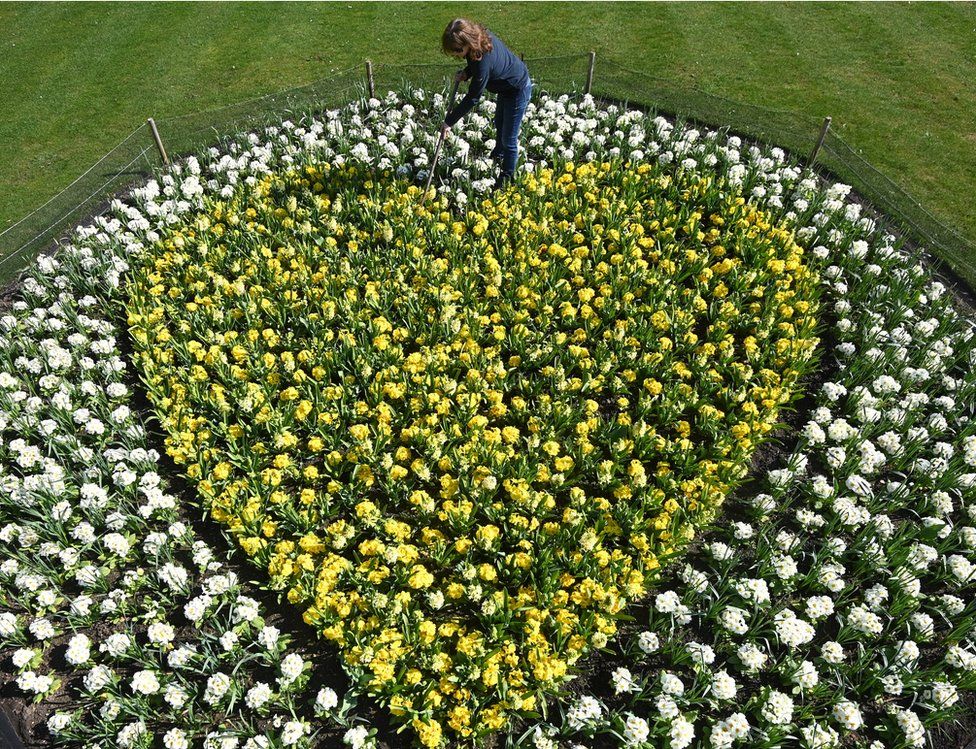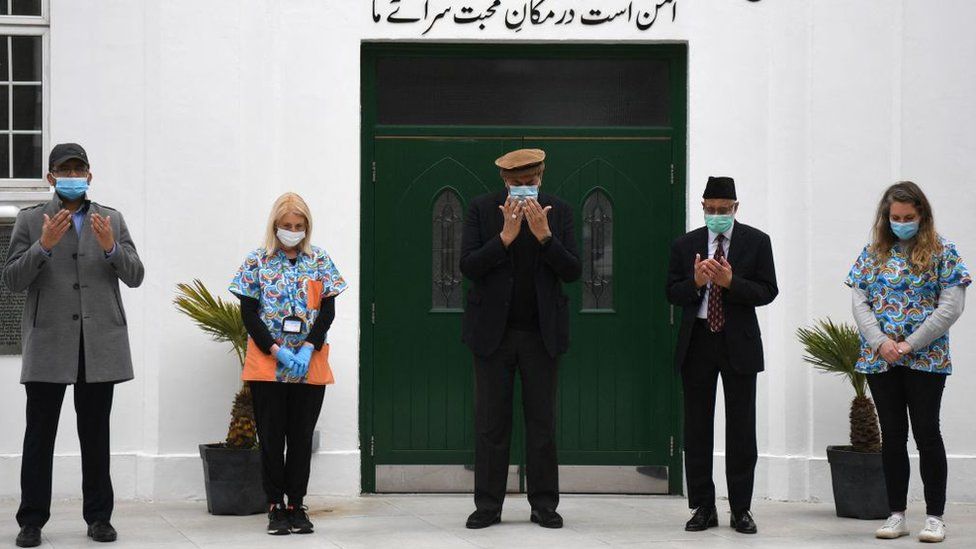 Doctors, nurses and teachers are calling on the prime minister to formally recognise an annual Covid Memorial Day – paying tribute to the efforts of front line workers during the pandemic.
They are among those supporting a cross-party campaign, which has seen more than 50 MPs and peers sign a letter to the prime minister asking for a minute's silence every year on 23 March to remember the lives lost.
Meanwhile, relatives of people who died with coronavirus have criticised the prime minister for "refusing" to meet them.
The Covid-19 Bereaved Families for Justice campaign, which is calling for an urgent public inquiry into the government's handling of the pandemic, said they had written to the government six times seeking a meeting but had been refused.
A UK government spokeswoman said the prime minister had always been clear there would be "opportunities to look back, analyse and reflect" on the pandemic, including an independent inquiry at an appropriate time, but added: "For now, it is right we focus entirely on saving lives."
Watch a BBC News special programme – Lockdown Live: What Next? – on BBC One at 19:00 GMT on Tuesday