Coronavirus vaccines: PM to telephone EU leaders in bid to stop export ban being imposed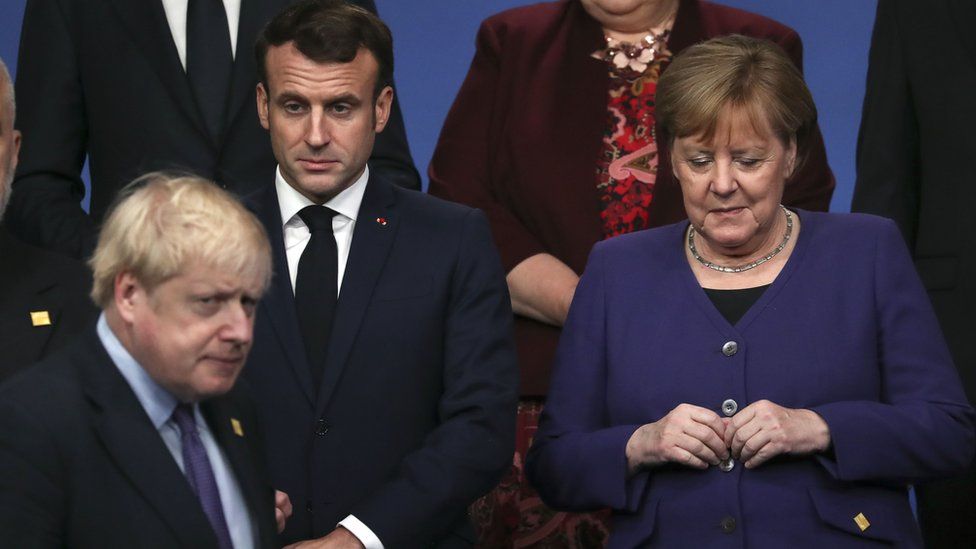 Boris Johnson is expected to speak to his EU counterparts this week as a row over Covid vaccine supplies continues.
EU leaders will hold a virtual meeting on Thursday to discuss a ban on Oxford-AstraZeneca vaccine exports to the UK – but the PM aims to put the UK's case in one-on-one phone calls before that.
The European Commission president says the EU can "forbid" vaccines made on the continent being sent to the UK.
The latest flashpoint appears to be over doses made in a Dutch factory.
The EU has encountered production problems with the Pfizer-BioNTech, Moderna and Oxford-AstraZeneca vaccines.
British-Swedish manufacturer AstraZeneca said the fact that EU contracts were signed later than with the UK caused problems with supplying their vaccine.
Downing Street has previously said that it does not believe that vaccine supply issues will affect the current road map for easing lockdown restrictions or the targets for administering jabs.
But the Guardian says a report by data analysts Airfinity suggests that if an export ban was applied to all vaccines – including those from Moderna and Johnson & Johnson that have yet to be deployed in the UK – it would see the offer of a first vaccine to every adult completed in late August rather than the target date of 31 July.
European Commission president Ursula von der Leyen said that 41 million vaccine doses have been exported from the bloc to 33 countries in six weeks, with more than 10 million jabs going to the UK.
She has said that, in contrast, the EU is still waiting for vaccine exports from the UK and she warned last week that that if supplies in Europe do not improve, the bloc "will reflect whether exports to countries who have higher vaccination rates than us are still proportionate".
Mrs von der Leyen said this weekend that the bloc has the power to "forbid" exports, adding: "That is the message to AstraZeneca."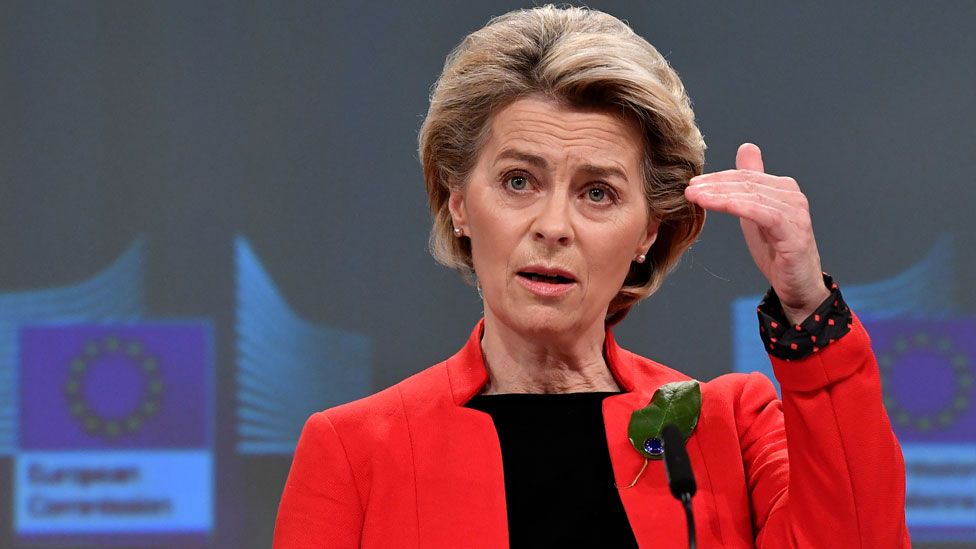 A government source has described the latest reports from the EU as "concerning".
The latest point of contention between the UK and the EU appears to be over vaccine doses being manufactured at a plant in the Netherlands, with an EU official telling Reuters that those doses should be distributed among member states, and not sent to Britain.
Mr Johnson is expected to use his calls to European leaders in the first half of this week to persuade them to veto any proposal that would prevent vaccine exports from entering the UK.
French president Emmanuel Macron and German Chancellor Angela Merkel are among those likely to be on the PM's list, according to British officials quoted by the Financial Times.




Mr Wallace told the BBC that the language being used by the European Commission was "counterproductive", adding: "Trying to… build walls around this would only damage both EU citizens and United Kingdom."
EU commissioner Mairead McGuinness has said that no decisions had been made over any possible export ban and urged all sides to "calm down".
It means that more than 27.6 million people in the UK – more than half the adult population – have now received at least one dose of a vaccine.