Coronavirus: Exercise out of the home 'could be banned' if people flout rules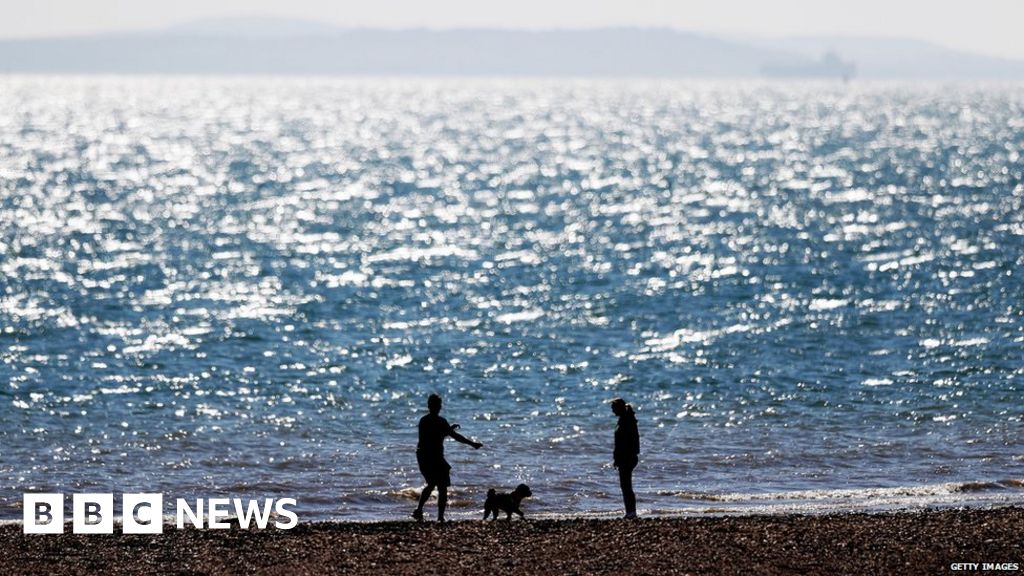 Exercise outside the home could be banned if people ignore the lockdown rules on staying at home and social distancing, the health secretary said.
Matt Hancock told the BBC's Andrew Marr that the government would "take action" if further measures are needed to bring the coronavirus under control.
It comes after reports of groups of people gathering in parks during sunny weather this weekend.
The latest death toll in the UK reached 4,313 on Saturday.
Mr Hancock said: "If you don't want us to have to take the step to ban exercise of all forms outside of your own home, then you've got to follow the rules."
The health secretary said the vast majority were sticking to the guidelines, adding: "Let's not have a minority spoil it for everybody."
He said the timing of restrictions being lifted would depend on how people behave, adding that "the more people stay at home the less the virus will spread".
Speaking to Sky's Sophy Ridge earlier, Mr Hancock said sunbathing in public spaces was against the government's coronavirus social distancing rules.
It comes after Brighton and Hove City Council tweeted on Saturday that too many people were meeting up with friends on the seafront, making social distancing "impossible".
Sussex Police said two people had been summonsed to attend court after having a barbecue on Hove beach.
Meanwhile, Lambeth Council in south London said Brockwell Park would be closed on Sunday after more than 3,000 people spent the day there sunbathing or in large groups on Saturday.
Restrictions state that everybody must stay at home where possible, and only leave if they have a "reasonable excuse", such as exercise or shopping for basic necessities.
Mr Hancock said the physical and mental health benefits of exercise were "really important", and that did not want to remove exercise as a reason to leave home.
But he added: "If the result of that is that too many people go out and flout the other rules because they say 'well if I can exercise then it's fine for me to do other things' then I'm afraid we will have to take action."
New Labour leader Sir Keir Starmer said the party would support the government it if decides to take the step of introducing further restrictions, such as a ban on exercising outside the home.
Also on the BBC's Andrew Marr show, Mr Hancock said that the number of ventilators needed over the coming weeks is 18,000, and that currently there are between 9,000 and 10,000 within the NHS.
When asked about the number of nurses that had died of coronavirus, Mr Hancock said the latest figure was three deaths.
Earlier, Mr Hancock told Sky it was "quite unbelievable" that a minority of the public are not following the lockdown social distancing advice.
The health secretary also dismissed speculation that he and Chancellor Rishi Sunak have different opinions about when to lift the strict measures.
"We're working very closely together," he said. "What matters is that we get out of this as soon as possible."
At Saturday's daily briefing, cabinet minister Michael Gove said people must respect the lockdown and that it might be that some of the government's messages had not reached some segments of the population.
"It may be that young people feel that they are less likely to be affected and less likely to be infected," he added.
In other developments:
The new Labour leader, Sir Keir Starmer, has accused the government of making "serious mistakes" in its response to the coronavirus
The Foreign Office said it is now working with 14 commercial airlines to help thousands of Britons still stranded abroad amid the pandemic, with seven charter flights to bring travellers home from India in the coming week
Convenience stores on the outskirts of towns and in rural areas are experiencing a surge in sales – as people turn to them for essentials during the lockdown
A drive-through coronavirus testing centre for frontline NHS staff is due to open at Glasgow Airport's long-stay car park on Sunday afternoon